Archives of November 2008
November 26, 2008 at 23:27
I went to our company today. The Inhabitancy Cards had been done. Candy was in company today, she greeted me with blessing. Thanks, Candy, and I appreciated our company, the CEO of company, and older sister Ophelia.
And today, the community of one of our local regions of city had started, I had told my friends and invited them to pay attention to this community. Cheers! Thanks, older brother Gao.

Permalink | Comments (0) | Trackback (0)
November 24, 2008 at 21:36
A reply
was posted on 2008-02-12, He said, the calamity would come in 3 month. That day would be 2008-05-12.
It's not surprising. Because the time does not exist, if we wish, we can get the information of future, present, and past from the universe via various methods. And there were so many entities of different densities from the other planets transfered the information to us via the channeling.

Permalink | Comments (0) | Trackback (0)
November 04, 2008 at 23:20
It's really difficlut to leap a platform, because we will be gotten by the huge resistance in the three-dimensional space, the third-density. In the higher density, there is no right or wrong.
So when I felt the resistance, I thought I'd better remove that place, or remove that topic what we were talking about, because it would have no answer after continued that topic. So sometimes we should just research by ourselves, if there is an appropriate opportunity, share the truth/facts with the friends who you will think they may understand you, agree with you and bless you.

Permalink | Comments (0) | Trackback (0)
November 02, 2008 at 14:49
I think there is an important law of design, that is comfort is appropriate enough, stop where it should stop. Some designs, after bedecked and revised, it was not satisfying, revised and revised, and again, it wasted a lot of time and energy. But when you stop revising, then use it, focus on this opus, it becomes a whole opus, if use it for a longer time, this feeling is more obvious. Design is to found the basic platform, this platform is simpler and easier to use, that is better, because it's easier to be focused on. The simpler platform, the expansibility is better.
The design which can be used again and again, and can be focused on, that is a living design.

Permalink | Comments (0) | Trackback (0)
November 01, 2008 at 20:06
We always tried to played with my daughter for a long time every time, made her can understand to smile. During these 3 or 4 days, she began to smile really with consciousness. Especially yesterday and today, when I smiled to her, she also smiled to me. She looked like very glad.
This is so interesting, my baby is growing, today is the 55th day since she was born, today she slept well. 5 or 6 days later, she will be 2 months old.

Permalink | Comments (0) | Trackback (0)
November 01, 2008 at 15:00
My daughter Xin was born on september 7, 2008. She growed heavier these several days suddenly, she had a good appetite, she could drink 60 ml to 140 ml milk, if not enough, she didn't allow. The brands of baby milk powder she drunk are Wyeth, Abbott, and Dumex. She was thin when she was born, all of her body becomes fat now. She likes looking person very much, when I was holding her in my arm, most of the time she was looking me, when her mother was holding her in my arm, most of the time she was also looking her mother. Since the 26th day she learnt to look person, it was never be disconnected. I moved my face to another position, she quickly turned her head to follow me, every time is so. Baby these several days learnt to smile really, we often played with her, sometimes she would smile to us, formerly she couldn't smile, formerly she just smiled when she was sleeping and dreaming. The photos below, you may click to view larger. My baby is more beautiful than her photos.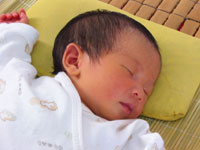 The 8th day since Xin was born, taked on 2008-09-15. This photo looks like almost the same with when she was born, the changes are not very obvious. The primary several days when she was born, I was busy, so I didn't take pictures for her.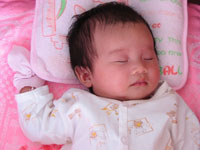 The 48th day since she was born, became fat already, taked on 2008-10-25. This photo, I have saved as my desktop of computer.
The 49th day since she was born, taked on 2008-10-25. Her skin of face is very white, because this picture was taken in the evening, the color of skin looks darker.
The 52ed day since she was born, taked on 2008-10-29. As the left photo, she likes crushing one eye, and openning the mouse.
Very pretty! Your father and mother will love you for ever!

Permalink | Comments (0) | Trackback (0)