There was a new function in IE6.0, that enabled the image to be the proper size of the IE's measure. As a web design or a webmaster, I think it was discommodious for us. Because the visitors who were tyros often couldn't see the proper size and effect of the image that we wished.
So as a visitor, I hope you can close the "Automatic Image Resizing" of IE. Then you can browse the right effect of the the photo that we showed.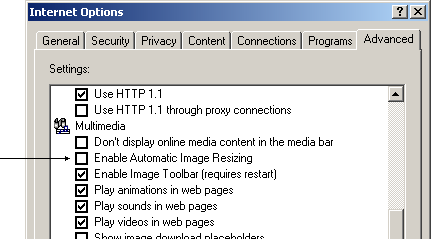 As the picture above, open the "Internet Option→Advanced", Find the "Multimedia→Enable Automatic Image Resizing", take out the "√".